Sheep are able to take decisions independently of humans
The word 'sheep' is often used to mean people who unthinkingly do what others in their group do, and who obediently follow a leader. 'Sheep' in this sense are not capable of acting as individuals. They may react to a stimulus, for example be startled by a sudden movement, or move towards food, but an individual sheep cannot carry out purposeful activity as the leader of a flock. Sheep have to follow a human shepherd.
Do four-legged, woolly sheep really behave like this? Sheep are certainly group animals, just as dogs and humans are. Group animals like to be with others of their kind, and tend to synchronise activity and rest. Yet, among groups of humans and dogs, some individuals may emerge as leaders, individuals of the same species that others in the group take notice of, and follow. Does this happen with sheep? If you watch a group of sheep in a field, they may appear to be mindless. It wasn't until I started to keep sheep that I developed more respect for their ability to act independently of humans.
I have a little flock of Talaveran sheep to keep grass and weeds under control on five acres of land in Spain. Some years ago, I had a small flock of Manchego sheep. These sheep aren't strictly 'pets', because they have a job to do, but nor is it a commercial flock. Each sheep has a name, and they are all related to one another. Some years ago, Kirsty, a street-wise, old Manchego ewe, led a break-out that surprised me. Break-outs were not unusual at first, because it took me a while to find all the vulnerable points in the fencing. Kirsty would see better grazing opportunities, escape over or under the fence, and the rest of the flock would follow her, usually all the sheep except for the ram, who was less agile than the ewes. It was easy to 'recapture' them. I gave them feed (grains) every evening, so they knew that if I rattled a container, it was supper-time. If they had escaped, I just rattled a container, and they came back through the fence the way they had escaped.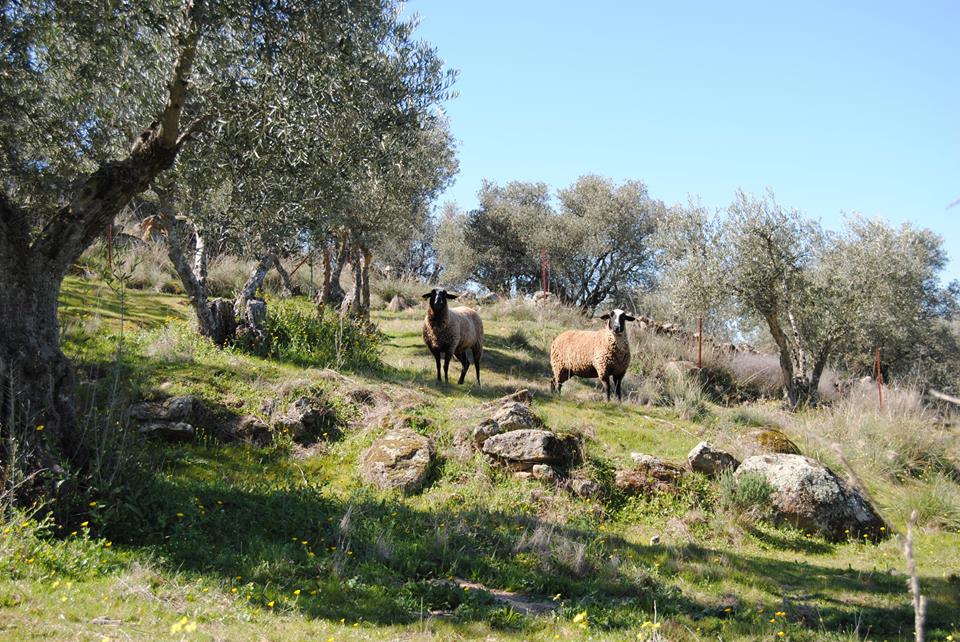 On one occasion, however, we had lent the flock to friends, who wanted their olive grove cleared of grass and weeds. The journey to the olive grove was uneventful. I went on ahead, with a bunch of olive trimmings (which sheep love to munch on) and the sheep followed me. A couple of people walked behind, to hurry any dawdling sheep. The walk to the friends' olive grove took about 15 minutes. We told the friends, (who also had sheep, but milking sheep not allowed out of their barn), to give our sheep some feed every evening, because that was what they were used to.
A few weeks passed, and then one evening my late husband was digging the vegetable garden when he heard a 'Baa' at the gate. It was Kirsty, who had brought the flock back with no human help. He opened the gate, and she took the flock up the hill to the sheep-house, where they usually had their supper. As my husband said, it was like she was asking 'where is my supper?' Our friends later told us that they hadn't bothered with giving our sheep feed in the evening, because they thought the sheep had enough to eat with the grazing. Kirsty appears to have disagreed!
There are unanswered questions, such as 'How did Kirsty know the way back, after only having travelled on that route once? How do sheep understand geography? Was Kirsty just seeking better food for herself, and why was she followed by the others? Was she in some way acting as a leader, with the entire flock aware that her decision would affect all of them? Those aren't questions one can easily answer. Sheep tend not to like being alone, so if none of the flock had followed Kirsty, it's unlikely she would have gone far. The others did follow her, and I can only guess why.
How do sheep and humans differ in their social behaviour?
The first thing that humans tend to notice about sheep in a field is that they 'flock', or stay in groups when they eat, rest, sleep and travel. Flocking is a defence against predators, more noticeable in sheep than humans, because sheep are prey animals. Humans have been both prey and predators. We are omnivores, and some modern humans are vegetarians, so some people may not see us as predators, but early on our species learnt to be efficient hunters. Modern humans have been described as 'super predators', because our impact on other animals is greater than that of large carnivores.
Sheep are warier than humans of small changes in their environment, which could signal danger for a sheep. It's safer to be wary of a strange object behind a rock than to go towards it and discover that it is a predator. Sheep may also be startled if a familiar sheep or human 'looks different'. For example, a young ewe of mine had her head caught in some plastic, and all the other sheep ran away from this strange creature.
Sheep are also herbivores, which means that they have to spend a lot more of the day eating than humans do. Sheep are usually eating, travelling somewhere to eat, resting and chewing the cud, or sleeping. Eating is a more social activity for sheep in that they like to have another sheep in sight. Humans engage in a range of activities during the day. We can happily munch on chocolate or fruit alone, and we also have meals together which may involve strict rules, like asking to leave the table, or may be less formal, for example in front of a TV.
People who want to understand the 'natural' behaviour of sheep have looked at mouflon (wild) and Soay (feral) sheep, which live in isolated places with little human intervention. Soay and mouflon rams form 'bachelor groups', while the ewes, lambs and young males group separately, except during the mating season. In domesticated flocks, most male lambs are sold, so there are far fewer rams than ewes. Shepherds with large flocks keep a few rams separately from ewes, except when they want the sheep to breed. This makes it easier to manage lambing, and reduces stress on ewes. Keeping rams and ewes apart most of the time is also in line with the way that adult rams form their own groups among feral and wild sheep.
People with small domesticated flocks used to borrow a ram from a neighbour. Today, regulations to prevent disease tend to rule this out, so it is common for people with small flocks to have one ram living with several ewes. This means lambing cannot be planned as easily, and adult rams can stress ewes, so it is not ideal. It is also not in line with the 'natural' tendency for sheep to split into groups of rams on the one hand, and ewes and youngsters on the other.
Sexual segregation outside the mating season is common among wild and feral polygamous ungulates (large mammals with hooves) like sheep. Males compete for females by fighting, and after mating, they are not involved in caring or providing for offspring, unlike humans.
Though rams and youngsters have ritualised butting contests, and a sheep may push and shove another out of the way to obtain feed in a trough, sheep rarely kill one another to gain access to resources. Humans, as predators, are better equipped to kill one another. Mealtime rules, like not grabbing another human's food, help us to use self-control. Groups of humans, especially males, sometimes attack individuals from another group. A group of humans may even carry out planned aggression against another group of humans. As a shepherd commented, 'sheep are more intelligent than humans, they don't have wars'.
Sheep communicate with one another through vocalisations, but humans have developed language, which can allow us to communicate more easily, and with more precision. Language has obvious advantages, but it can be distracting, and language means that humans are better able to deceive one another by telling lies!
As with sheep, it's hard to say what is 'natural' human behaviour. We evolved as a species that lived in small groups, and both foraged and hunted. It is only recently in the history of our species that humans began to settle, own land, and use money, while nation states came much later. Today, one person can belong to many small groups, at work through leisure, or among neighbours where they live. We are no longer confined to a single group. It's debateable how much we have evolved since those far-off days, but a lot of our behaviour can be understood by looking at far-off times when most humans lived in small groups, or at isolated groups of modern-day humans with little contact with the rest of the world.
Humans have some similarities with sheep. For example, we also tend to band together as a defence against predators. Today many people live alone, but they are usually able to see other humans, even if the humans are people they don't know. There is also some segregation between adult male humans on the one hand, and females and juveniles on the other, though this is not as marked in as in sheep. In contrast to sheep, male humans tend to be involved in raising offspring. Though humans may joke about the difficulties of understanding the opposite sex, there is a lot more co-operation between men and women than there is between rams and ewes.
Each domesticated flock is different
We humans shape the social groups that domesticated animals live in, and we decide where they live, and as flocks vary so too will the social behaviour of the flock. My flock rarely has more than ten sheep, with a mix of ages, from ewes over ten years old, to lambs. Sometimes there is an adult ram, never more than three years' old, partly because it can be stressful for ewes to live with an adult ram all year, and because adult rams can be dangerous to humans.
Sheep may also be kept in large flocks with hundreds of sheep, sometimes joined by several rams of different ages. A single leader is unlikely to emerge in a very large flock, because it is harder for the sheep to keep track of all the individuals in the group. A group of just-weaned youngsters recently put together will have no clear leader either, because no single sheep has enough experience to provide guidance. If you watch a group of youngsters in a field, they are both more trusting in their approach to humans, and more likely to panic if a human does something unexpected. They have no adults to 'steady' them, to tell them what is safe as well as what is dangerous.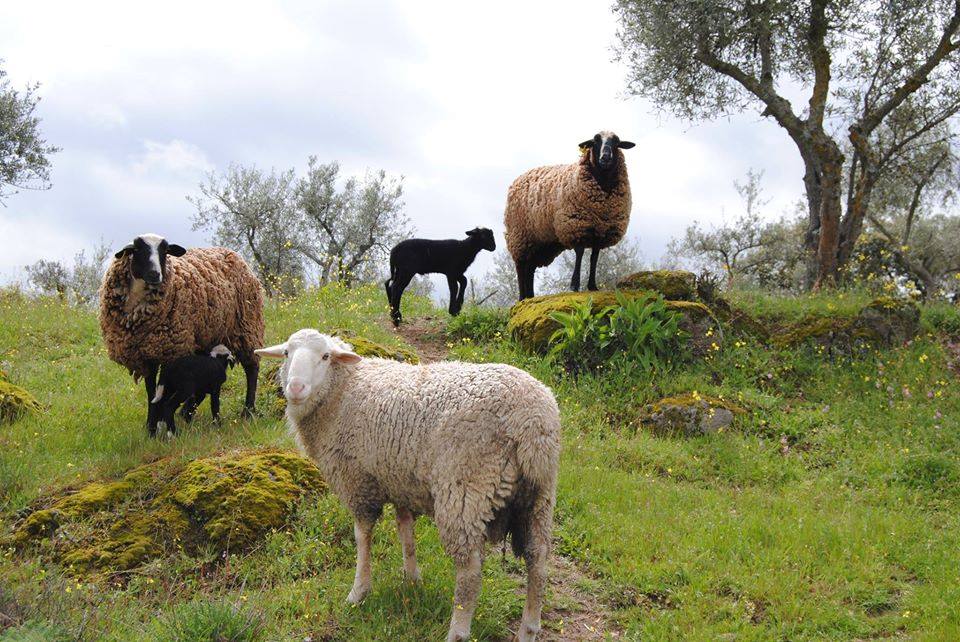 My sheep live on three adjoining hillside pastures, and have human contact every day. Sheep may be kept in barns with a lot of human contact, or on lowland pastures, or left alone on mountainsides for months. There are still very large transhumant flocks in Europe, which are taken long distances twice a year to find the best pasture in summer and winter. When sheep travel long distances, shepherds may train 'wethers' or castrated male sheep, to help lead the flock.
The challenges facing sheep vary a lot according to where they live. Barn sheep have little leeway to take decisions, whereas at the other extreme, sheep left alone on mountainsides have to survive for long periods independently of humans.
Sheep may also behave differently according to the availability of food. In summer in central Spain, grazing is poorer than in winter, and as a local shepherd commented, 'the sheep have no respect in summer, when they are hungry'. They have less fear, and can invade a vegetable garden, demolishing the crops in minutes, despite an angry human shouting at them, a danger they would take note of in winter when there is more to eat. If the food on offer is especially high-value, each sheep focuses on eating as much as possible as fast as possible.
There are also breed differences between sheep, which may correlate with different behaviour, as happens with dogs. Humans have bred sheep to be productive for wool, meat, or milk, or able to cope with a specific terrain or climate, rather than for different sorts of behaviour, but behavioural differences can emerge as a side-effect of breeding for something else. Some breeds tend to be more 'maternal' than others, less inclined to follow the flock, and more inclined to stay with their lambs. Wild and feral rams, and some domestic breeds, tend to have a sharper spike in hormone levels, which means that conflict between rams is likely to be more intense, as is the tendency of male sheep to form 'bachelor groups'. Sheep designed to live in colder climates tend to have a shorter breeding season, because lambs are at risk from low temperatures.
We tend to believe that a group of animals we know well can explain a lot about the behaviour of the species, but of course what we observe may be specific to our particular group. A street-wise, scraggy old ewe is capable of being the leader of a small flock, under certain circumstances. This may fit with the 'natural' behaviour of sheep, but certainly does not fit with all domestic flocks, because the size, composition, and circumstances may prevent it from happening.
How can a sheep become a leader?
Kirsty was the leader of my first flock. She was the first to escape, if she found a weak spot in the fencing, and saw better grazing on the other side, and she would bring the flock back when I called them. Kirsty wasn't the oldest sheep. There was a geriatric sheep in the flock, Morag, who had few teeth left. She was a laid-back old lady, calm, and not as bold and agile as Kirsty. Age and experience count, but the oldest sheep is not necessarily the leader.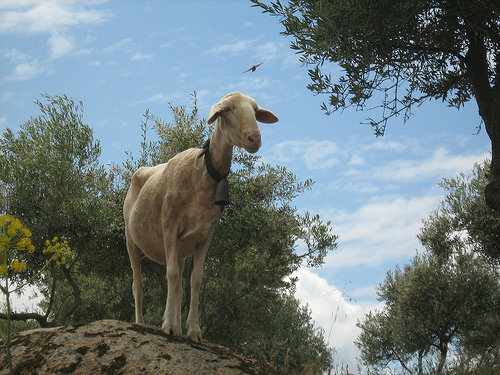 Geriatric sheep are uncommon in commercial flocks. Both Kirsty and Morag had come from a hobby farmer who was fond of his sheep, and sold them to us rather than selling them for slaughter. Shepherds here say that the average lifespan of a sheep is ten, but since sheep are usually culled when they become less productive, there is little reliable data on how long they can live, if allowed to live their natural lifespan. The hobby farmer estimated that Morag was 17 when she died, and Kirsty, who was still going strong, was 14. Friends with a commercial flock told us to sell Kirsty for slaughter, because older sheep bring problems, like vet bills. They laughed when we said that she helped keep the flock together, making it easier for us to get the sheep to go where we wanted them to go. Their sheep were confined to pens in a barn, so they had no need of a lead ewe to keep their flock together.
There were three original Manchego ewes, Morag, Kirsty and Shona. Shona was the youngest, and the best able to win in shoving contests, but she was very easily spooked. Shona was the look-out sheep, who would alert others to potential danger. Shona's twin daughters were also easily spooked, so much so, they were difficult to handle, so I gave Shona and one daughter to a shepherd friend, and kept the other, who then followed Kirsty as her 'mother figure' and became much calmer.
So what happens if two ewes in a small flock are of a similar age? In my current, Talaveran flock the bolder of two older ewes, La Favorita, first became the leader. She was both more trusting of me, and was less worried about changes in the environment. Sadly, she died, and all the other ewes at the time were very young, except for La Mayor, who took over the leadership.
Under La Mayor, the whole flock became warier. For the first two weeks, it took a lot of patience to persuade the sheep to go into the sheep-house. If I changed my jacket, La Mayor was spooked, and she would not enter the sheep-house. If she didn't go in, the others wouldn't. For her, something unfamiliar like a different jacket, could mean danger.
The ram, then only a year old, also became less bold, and less likely to approach me closely. This was actually a good thing, because you don't want to be mugged by a ram who is after the food you are carrying to the sheep-house. Previously he had grazed and rested with La Favorita. After she died, he grazed and rested alongside La Mayor, just as Shona's daughter had followed Kirsty when Shona left.
Adult rams can easily shove ewes out of the way at the feed trough, leaving the ewes and youngsters hungry. One solution is not to allow them to feed with the ewes for the first five minutes, easy to do because ewes are smaller, so can get through a partly open door with too little space to let the ram through. Though the adult rams have been physically stronger than all the ewes, so far they have taken their cue from the lead ewe as to what is safe.
My rams have always been young. Older rams would rely less on the lead ewe for guidance, as they built up their own experience and knowledge. Experienced rams might see off potential dangers. Would a ram lead a break-out? Possibly not, first because it is the ewes which are more agile, so find it easier to escape, and secondly because the ewes tend to be hungrier, and spend more time eating then rams, so are more motivated to seek better pasture. Would ewes trust the judgement of a ram to assess what is safe and not safe? That's difficult to tell, because ewes are not just concerned for themselves, also for their offspring. Are rams 'designed' to lead a flock of ewes? Maybe not, because although a single ram can be integrated into a small domestic flock, wild and feral rams and ewes live in separate groups outside the breeding season.
Leadership and family ties
Early on, with the Manchego flock, I first noticed how strong the mother-daughter tie was. Adult daughters would graze and rest near their mothers long after weaning. The same is true for the Talaveran flock. Studies of sheep as social animals tend not to look at family ties and behaviour, perhaps because you would need long-term observation to see patterns. In my flock, when a ewe already has an older daughter, and gives birth again, her older daughter stays away until the new lamb is old enough to be integrated into the flock, and then the daughter re-joins her mother and sibling.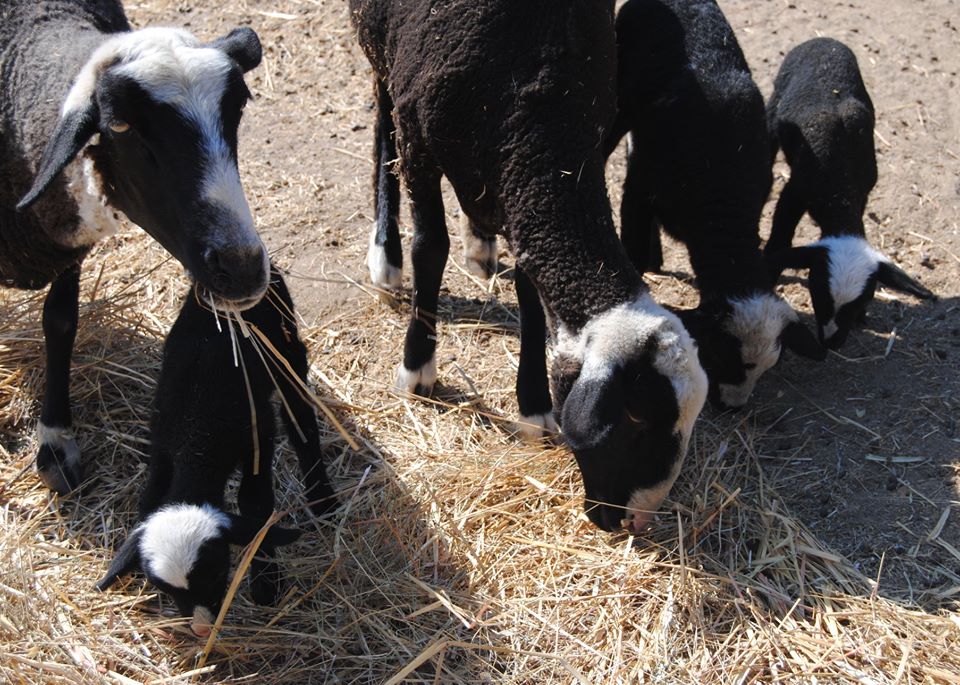 Mothers and daughters not only graze and rest together, they also tend to eat feed at the trough together, which means that the daughter may also be close to siblings. When an experienced ewe is eating feed, she tends not to tolerate a lamb attempting to suckle, but the younger ewes are more permissive. La Mayor has a daughter called Paz, who gave birth to a lamb in June 2019. La Mayor then had twins in July. Paz ate feed next to her mother, so was also next to her twin sisters. She not only let her own lamb suckle while she ate feed, but she also let her siblings drink from her. At first, she may simply not have noticed which lamb was suckling, or she may have accepted the twins because they were her mother's daughters. They later suckled from her in the pasture, as well as when she was busy eating feed.
The very obvious bond is between a ewe and her young lamb. When a ewe is about to give birth, she separates from the flock, and stays at a short distance from the flock for a few days after the lamb is born. This is a good time to separate the ewe and her lamb from the flock, and put her somewhere safe from foxes and other predators. When La Mayor has given birth, the next-oldest ewe has taken over as leader for a few days. The ewes may eat in family groups, which might affect access to food, but daughters do not 'inherit' leadership. A young ewe will not become leader just because her mother was, if there is a more experienced ewe as an alternative.
Once sheep are a few weeks' old, they start to interact more with their peers, and group together to play. They jump, run, and have head-butting competitions. Spanish has a word to describe sheep from a month or so old, to about a year, which is 'borrego'. Borregos are like human children in that they like to play with one another, and to be able to run home to mum. Borregos lack experience to judge what is safe and what is dangerous. Whereas in English people might say 'they followed him like sheep', in Spanish it's 'le siguieron como borregos', or 'they followed him like young, inexperienced animals'. The difference between languages perhaps reflects Spaniards being closer to an agricultural past. Migration from the countryside to the cities happened much later in Spain, so more people have first-hand knowledge of sheep.
La Mayor has a granddaughter called Petra in the flock. Petra is the daughter of Pilar, a sheep I gave away. Pilar was La Mayor's daughter, and gave birth shortly after she moved to her new home. After Petra was born, her mother wouldn't suckle her without Petra being put to the teat by the shepherd, so after a week, Petra was taken away from her mother and bottle-fed until she was two months old. She was introduced to a small group of ewes from the flock, but when she approached them, they ran away from her. Petra was born black, though her mother was white, and the new flock were all white. This particular shepherd had removed all the black sheep from his flock, so his white sheep were not used to seeing black sheep.
Petra joined my flock at two months' old, only having been with her mother for a week, and having had little contact with adult ewes after that. She is much less wary of humans than the other sheep, and seems to lack some ovine social skills. When she was a youngster, she wanted to be with the flock, but sometimes lost track of them in the long grass. The other sheep would wait for her when she complained about being alone. She is now three, and still sometimes panics, because she cannot find the flock. It's hard to tell whether she loses track of the flock partly because she has no mother to stay close to, or whether she simply lacks social skills. The ewes pay no attention to the distress calls of the ram, if he is excluded at feeding time, while they may pay attention to the distress calls of a ewe. When the ram was once caught up in a sheep fence, none of the ewes was concerned, except for Petra, who stood near him and added her complaints to his. She does seem to perceive the flock differently from the other ewes.
Scott and Fuller tell of raising a ewe lamb and then a ram lamb apart from other sheep from birth to ten days' old. Neither lamb was able to integrate into the flock they came from, while they were young. Instead, they grazed independently (Scott and Fuller, 1998, p129). The ewe was still not part of the flock when she was three years' old, but as the ram became sexually mature, he took more interest in following the flock. Scott and Fuller argue that the ewe lamb was put off interacting with the flock because when she first approached ewes, they butted her. (This is a normal ewe defence when someone else´s lamb comes close to try to suckle). Petra spent the first week with her mother, and has always shown a desire to be with the flock. She just has more trouble keeping track of them. Scott and Fuller argue that 'one of the positive mechanisms for producing social relationships in the flock is the sexual behaviour of males' (ibid). Perhaps this underestimates the complexity of social relationships among ewes, and maybe the social cues that ewes have to learn are subtler than those that a ram needs. Lambs will learn some of their social skills from their mothers, and others from the ewes and youngsters around them.
Why isn't the biggest and strongest sheep the leader of ewes?
An obvious answer is that sheep are prey animals, so need to know what is safe and what is dangerous, and an older, more experienced sheep is better able to assess risks, regardless of physical strength. Personality counts too. Sheep follow a leader who takes them where they want to go, and a bolder sheep is more likely to take the initiative, as well as inspire confidence, again regardless of strength.
Rams use butting competitions to test strength, when competing for access to ewes. Rank can be established through ritual combats, like butting competitions, rather than serious fights that could mean one animal inflicting real harm on another. These male-male contests mean that the rams can already 'know their place' once they have access to ewes. Adult ewes do sometimes have butting contests. However, in my flocks the youngsters have been more likely to test one another's strength by butting, while the adult ewes rarely butt. This may be because most of the sheep have known one another since birth, so they can develop a stable hierarchy as youngsters, which persists as they grow up.
A stable 'dominance hierarchy' can reduce the level of conflict in a social group, because, when it works well, animals defer to the dominant individual, without fighting, if both want the same resource. Following an individual is a little more active than deferring to an individual to avoid conflict, so, though the same individual may be both dominant and a leader, this doesn't have to be the case. There is also no need for a contest when leadership changes from a very old ewe to a younger ewe, since the other ewes may simply follow their preferred leader.
My sheep's behaviour changes markedly in summer, when they are much keener on feed, a high-value foodstuff which they eat from a two-sided trough. When there's plenty of grazing in spring, there's some decorum, and the sheep take the same places each side of the trough. In contrast, in summer, it's each sheep for herself, and the positions they take at the trough are more variable. The sheep are also more active, and one sheep may change sides, to push in between two feeding sheep, in case there is more feed where they are. If there isn't, the interloper may go back to her previous place. The older ewes place their back legs wide apart while they are eating, which helps to prevent an interloper from pushing them.
In summer, the ewes also take less notice of La Mayor, if she's slow to enter the sheep house. As Paco the shepherd commented, 'the sheep have no respect in summer, when they are hungry'. The established order can break down.
When hungry animals of any species are offered high-value food available for a short time in a limited space, competition can be intense. Accounts of famines tell us that each individual human tries to eat as much as they can as fast as they can. However, humans generally use more self-control when we eat, for example, waiting to start to eat until given permission by the senior person at the table. Children can be taught to wait until handed a high-value piece of cake, rather than grabbing it for themselves. Human rituals reflect our greater need for self-control. It's perhaps problematic to label the sheep that gets most at the trough in summer the 'dominant' sheep, firstly because it is an abnormal situation when the social order breaks down, and each ewe focuses on eating, rather than on other ewes. Secondly, the behaviour of sheep when they eat is different from the behaviour of humans, so giving the same label to the behaviour in same situation in different species may be confusing.
Sheep are less likely to damage one another when competing over food, but they can damage humans who get in the way. This is not so much a 'bid for dominance' as a sheep wanting to take the most direct route to the food, whatever the obstacles!
Leadership across species
Shepherds control sheep in different ways. One way is for the shepherd to act as a leader. Sheep will generally follow a known and trusted human, especially if they are hungry, and there are signs that the human is leading them to food. Where I live, sheep tend to be moved only short distances, and small flocks can be moved along a track to a nearby field by just one person. Kirsty's former owner, in his eighties, would jog to encourage the small flock following him to move faster, so they stayed focused on him, and he could get the sheep into the field before a car came along the track.
Larger flocks are moved shortish distances with the shepherd going on ahead, and his or her friends going behind, sometimes with a vehicle, to chivvy the stragglers. There are also a few shepherds with dogs that perform the same role as vehicles. A working sheepdog has to be skilled, use self-control, and understand sheep, because if a dog is too pushy, the sheep will scatter. However, despite their skill, the dogs are not leading the sheep. The sheep are trying to keep a safe distance from the dogs, rather than following them.
Most sheep are wary of strange humans, though they may approach a stranger who appears at the time they are usually fed. Shepherds can build a relationship of trust by regular contact, establishing routines, and there being a motivation for the sheep to approach the shepherd. The first two ewes of my current flock arrived in spring when the grass was lush. It wasn't until the summer, when food was scarce that they started to investigate the feed container, and then follow me into the sheep house. The ewes were both pregnant. When their lambs were born, the lambs followed the example of their mothers.
Sheep are controlled more by confinement these days than in the past. There are more restrictions on movement, to control disease, more land is fenced, so the old sheep routes may be blocked. It is also harder to find people willing to live the solitary life of a shepherd caring for sheep on unfenced land. Even so, there are still shepherds who move large groups of sheep twice a year in Spain, to use the better pasture for summer and winter.
Moving a very large flock a long distance takes planning, and a lot of helpers. Guard dogs protect the sheep from predators, such as wolves (still common in some parts of Spain) and stray dogs. Sheepdogs help keep the flock together, rounding up stragglers. The shepherds, may also enlist castrated male sheep, or 'wethers' as leaders. Castrated males are less likely to attack the shepherd, and less likely to fight other males than are rams. Shepherds can train wethers to come to them, just as dogs are taught recall. An older wether can take the flock to the shepherd when the shepherd calls the wether by name. Transhumance can involve several flocks, usually kept apart, moving in one very large group, so there may be more than one shepherd. Each wether follows their shepherd, and each flock follows their wether.
Wethers often wear a collar with a bell attached to it, so the shepherd can more easily tell where they are and so where the flock is, even if he can't see them. This is the origin of 'bellwether' to describe a trendsetter, or a person whose behaviour indicates a trend. Wether goats have been used to lead flocks, sometimes in preference to wether sheep, because goats tend to be bolder than sheep, so less likely to panic, though mixing sheep and goats is less common today due to concern about disease transmission between species. Wethers may be used to lead sheep to slaughter, hence the term 'Judas sheep' or 'Judas goat'. This practice upsets vegetarians, though it does have welfare benefits, in that sheep are less likely to be stressed if they have a clear leader. Keeping a few mature sheep in a group of lambs being fattened would also help to calm youngsters.
Humans are able to lead sheep once the sheep trust them, and humans can train wethers, as deputies, or junior leaders, or work with a lead ewe. It is possible to manage sheep by containment, but easier to persuade them to do what you want through leadership.
Sheep may not be what they seem!
Sheep are one of the oldest domesticated animals. They have become so familiar that we often think we know them, and perceive them as gentle and obedient, without differentiating between one sheep and another. Yet when you get to know them, each has a personality, and a place in the flock, and they can surprise us by taking the initiative.
Acknowledgements
Thank you to José Maria Alía, Eusebio Colilla, Paco Suela, and Julian Amor for passing on their knowledge of sheep. Thank you also to Linda Kaim for sharing ideas on ungulates and humans, and to Tiffani Howell for comments on an earlier draft of this article.
Further reading:
Beausoleil, N.J., Blache, D., Stafford, K.J., Mellor, D.J. and Noble, A.D.L. (2012). Selection for temperament in sheep: Domain-general and context-specific traits. Applied Animal Behaviour Science, [online] 139(1), pp.74–85. Available at: https://www.sciencedirect.com/science/article/abs/pii/S0168159112000706 [Accessed 19 Aug. 2020].
Bleich, V.C., Bowyer, R.T. and Wehausen, J.D. (1997). Sexual Segregation in Mountain Sheep: Resources or Predation? Wildlife Monographs, [online] (134), pp.3–50. Available at: https://www.jstor.org/stable/pdf/3830743.pdf?seq=1 [Accessed 19 Aug. 2020].
Constable, H. (2017). Sheep are not stupid, and they are not helpless either. [online] Bbc.com. Available at: http://www.bbc.com/earth/story/20170418-sheep-are-not-stupid-and-they-are-not-helpless-either.
Ciuti, S., Luchetti, S., Pipia, A., Apollonio, M., Grignolio, S. and Madau, R. (2008). Influence of sex, season, temperature and reproductive status on daily activity patterns in Sardinian mouflon (Ovis orientalis musimon). Behaviour, [online] 145(12), pp.1723–1745. Available at: https://brill.com/view/journals/beh/145/12/article-p1723_1.xml?language=en [Accessed 19 Aug. 2020].
Darimont, C.T., Fox, C.H., Bryan, H.M. and Reimchen, T.E. (2015). The unique ecology of human predators. Science, [online] 349(6250), pp.858–860. Available at: https://science.sciencemag.org/content/349/6250/858 [Accessed 19 Aug. 2020].
González, M., Averós, X., Heredia, I.B. de, Ruiz, R., Arranz, J. and Estevez, I. (2013). The effect of social buffering on fear responses in sheep (Ovis aries). Applied Animal Behaviour Science, [online] 149(1), pp.13–20. Available at: https://www.sciencedirect.com/science/article/abs/pii/S0168159113002347 [Accessed 19 Aug. 2020].
Guilhem, C., Bideau, E., Gerard, J.-F., Maublanc, M.-L. and Pépin, D. (2006). Early differentiation of male and female interactive behaviour as a possible mechanism for sexual segregation in mouflon sheep (Ovis gmelini). Applied Animal Behaviour Science, [online] 98(1), pp.54–69. Available at: https://www.sciencedirect.com/science/article/abs/pii/S0168159105002480 [Accessed 19 Aug. 2020].
Hopewell, L., Rossiter, R., Blower, E., Leaver, L. and Goto, K. (2005). Grazing and vigilance by Soay sheep on Lundy island: Influence of group size, terrain and the distribution of vegetation. Behavioural Processes, [online] 70(2), pp.186–193. Available at: https://www.sciencedirect.com/science/article/abs/pii/S0376635705001075 [Accessed 19 Aug. 2020].
Michelena, P., Gautrais, J., Gérard, J.-F., Bon, R. and Deneubourg, J.-L. (2008). Social cohesion in groups of sheep: Effect of activity level, sex composition and group size. Applied Animal Behaviour Science, [online] 112(1), pp.81–93. Available at: https://www.sciencedirect.com/science/article/abs/pii/S0168159107002316 [Accessed 19 Aug. 2020].
Milius, S. Science News for Students. (2015). Humans are 'superpredators.' [online] Available at: https://www.sciencenewsforstudents.org/article/humans-are-superpredators [Accessed 19 Aug. 2020].
Miranda-de la Lama, G.C., Pascual-Alonso, M., Aguayo-Ulloa, L., Sepúlveda, W.S., Villarroel, M. and María, G.A. (2019). Social personality in sheep: Can social strategies predict individual differences in cognitive abilities, morphology features, and reproductive success? Journal of Veterinary Behavior, 31, pp.82–91.
Rowell, T.E. and Rowell, C.A. (2010). The Social Organization of Feral Ovis aries Ram Groups in the Pre-rut Period. Ethology, 95(3), pp.213–232.
Scott, John Paul Scott , and Fuller, John L. (1998). Genetics and the Social Behaviour of the Dog. University of Chicago Press
Shillito Walser, E., Hague, P. and Yeomans, M. (1983). Variations in the strength of maternal behaviour and its conflict with flocking behaviour in Dalesbred, Jacob and Soay ewes. Applied Animal Ethology, [online] 10(3), pp.245–250. Available at: https://www.sciencedirect.com/science/article/abs/pii/0304376283901451 [Accessed 19 Aug. 2020].
Singh, N.J., Bonenfant, C., Yoccoz, N.G. and Côté, S.D. (2010). Sexual segregation in Eurasian wild sheep. Behavioral Ecology, [online] 21(2), pp.410–418. Available at: https://academic.oup.com/beheco/article/21/2/410/322642 [Accessed 19 Aug. 2020].