The Call of the Wild is a story by Jack London published in 1903, about the life of a dog who started off as a pampered pet, was stolen, spent a while as a sledge dog, and ended up being boss of a group of wolves in the wild in Alaska. The dog finds salvation by returning to his wild roots. It's quite an improbable tale, which requires you to suspend disbelief. For starters, the hero is a dog, but he thinks and tells his story like a human. In real life, dogs without owners usually end up becoming feral, hanging around human settlements, unless a human disposes of them, or turns them into an owned dog again. Dogs may mate with wolves, but a pet dog isn't equipped to integrate into a wild wolf pack, let alone become pack leader. Pet dogs don't learn as pups the skills that wild wolves need to know, like hunting in a group, and being extremely wary of danger. If pups are born to a bitch with no owner, they learn the skills of feral dogs, which scavenge on the edge of human society. Dogs have diverged from their ancestors, as a result of a long period of domestication. Some dogs, like Alaskan Malamutes, are more wolf-like than others, but in general, dogs are not as good at co-operating with one another to survive, and are more geared to interacting with humans than are wolves. Even tame wolves, reared exclusively with humans from an early age, are still wild animals, preferring the company of their own kind to humans, when they get a chance to be with other wolves.
Jack London's story may be far-fetched, but it does reflect a long-term human fascination with 'the wild', and the idea that somehow wild animals can help us to escape the corruption of civilisation. In America, there's a fashion for keeping wolf-dogs, and wolves as pets. It's illegal to keep wolves in the UK without a Dangerous Wild Animals licence, but smaller wild animals like parrots, reptiles and tropical fish are very popular as pets.
The Magic of African Grey Parrots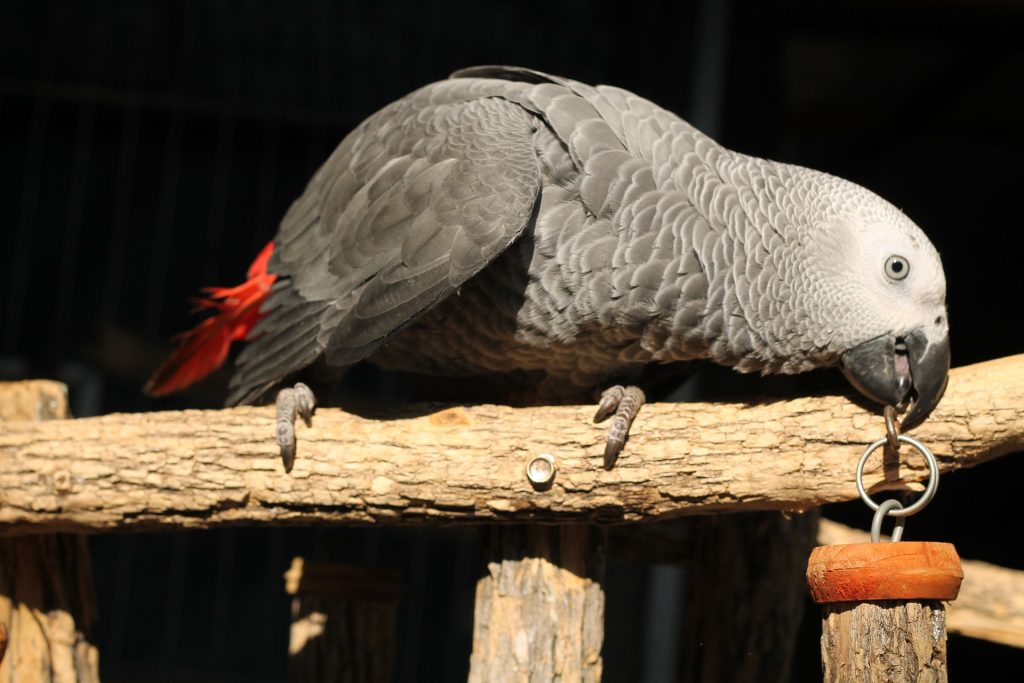 The first time I met an African Grey parrot was in Spain. A friend was looking after the bird while the owner was on holiday. The parrot sat on a perch in a small cage in a patio, watching people going past. My friend kept the cage clean, fed the bird a varied diet, and chatted to him now and then, mostly trying to convince him to say the Spanish equivalent of 'Who's a pretty boy?'. He looked well-cared for, except he had no room to fly, and there wasn't a lot in his cage for entertainment. It looked like a pretty boring life for a bird as intelligent as an African Grey.
The most famous African Grey was Alex, a parrot trained by a psychologist, Irene Pepperburg, to recognise and say the English names of objects such as different types of fruit, colours, and even numbers. He could also understand and use the ideas 'bigger' and 'smaller', and 'the same as', and 'different'. Given that humans often have trouble learning a second human language, it's quite a feat that a bird could learn to use words from a language of another species.
Alex was compared to a small human child in his abilities. How well would a small child handle living in a cage with no enrichment? We've seen videos of children in cages in America, and they didn't look happy, but at least they were with other kids, rather than isolated. Like humans, African Greys are an intelligent, highly social, curious species, however little is known about their behaviours in the wild because we've tended to focus on parrots in captivity. Wild African Greys live in same-species flocks, depending on the group for protection. They fly long distances to find food. How do they navigate? They flock in larger groups to forage on the ground, and when they roost. How many individuals can one parrot recognise? Are they better at recognising other parrots than we are at recognising other humans? We don't know the answers to a lot of basic questions about parrots in the wild because we've tended to focus on parrots in captivity surrounded by humans, and to ask how far parrots resemble us, rather than take a broader view of parrot intelligence.
African Greys are essentially wild animals, even if they're tame and have been born and raised in captivity. They have all the instincts and genetic make-up of wild parrots, because they haven't been domesticated, bred over enough generations to change their inbuilt behaviour to make them better adapted to living with humans. This means that African Greys do best when they can do what comes naturally, which is to forage over a large areas with other African Greys. They don't cope with isolation very well, and can develop all sorts of neuroses and fall ill if they aren't able to express their natural behaviour. Humans can tame African Greys, and develop a strong relationship with them, but these birds aren't really designed to live with just one individual, especially one of another species.
In some ways, the love affair with African Greys resembles the capture and training of Orcas, popular because of their ability to understand and interact with humans. The trainers may feel love for the animals they trained – having a wild creature interact with them may make trainers feel good, but what about the Orcas, designed to live with other Orcas and travel long distances in groups? They're wild animals, even when they're born in captivity. They aren't designed to live in a small space and perform tricks for another species. The same applies to other wild creatures, like bears and primates, kept for entertainment in some parts of the world.
If it's true that captive-born African Greys have trouble adapting to life as a pet, then it's obviously traumatic for wild-caught birds to have to adapt from living in a flock to living in isolation with humans. Many birds trapped for the pet trade don't survive the journey to the pet store. There's a real risk of African Greys disappearing in the wild, because of demand from the pet trade. There's a ban on the international trade in African Greys, but smuggling means the trade continues. Ironically, people who claim to love these birds may end up causing the extinction of the species.
What can happen when humans keep wild animals as pets?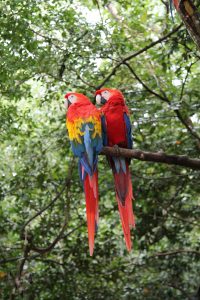 Wild animals, like African Greys, kept as pets are often called 'exotic pets', a term that usually refers to imported species, rather than wildlife native to the place where the pet keeper lives. The term 'exotic' can cover parrots, finches and other birds, racoons and other mammals, reptiles and amphibians, tropical fish, and even invertebrates. 'Exotic pet' isn't a precise term, since some species, like budgies, have been kept for so long by humans that they could be called domesticated, even though wild populations exist.
Some authors include native wild species in their classification of exotics, because problems can arise from keeping a wild animal in captivity, whether or not the species is indigenous. Importing wild animals tends to create more problems because it usually means long journeys in overcrowded conditions, and a lot of animals die on the journey. Their final destination may also be somewhere with a very different climate. When wild animals are taken to a different climate zone, they can fall ill and die, if their new owners don't meet their needs in terms of temperature, humidity and sunlight, and that's especially true for reptiles. However, animals transported across climate zones in the same country may also be affected. An animal from the south of the US which is taken north, or from the north of Australia taken south, will find itself in a colder climate, so will depend on the owner's skills in providing the right conditions.
Importing wild animals also tends to mean that they're wild-caught, so are more likely to panic when approached by humans, and less likely to adjust to confinement in their new home. In general, the exotics which fare least well are those that have been imported. Some species of wild animals are included on CITES (Convention on International Trade in Endangered Species). All captive animals on the CITES List have to be identifiable and have to have documents issued by DETR (Department of the Environment, International Trade in Endangered Species Branch) In the UK, it's illegal to buy or sell animals on the CITES list unless they have the correct paperwork, though endangered animals are still smuggled into the UK and sold illegally. Wild-caught animals not on the CITES list are offered for sale in pet stores, and attract novice buyers because they tend to be cheaper than captive-bred specimens from a breeder. It's a false economy, because they're more difficult to handle, and less likely to survive long in their new home due to the stresses of capture, transport, and sudden change in environment. It's also of course, damaging to the species, effectively killing a lot of individuals so a few can survive to live in captivity. At least hunting kills animals quickly, and if they are common species and die to feed us, in some ways hunting is more justifiable than capturing wild creatures to be our 'companion animals' when they'd rather be nowhere near us.
How well captive-bred animals do depends a lot on how much skill and resources are needed to care for them. Some 'exotics' are a lot more demanding than others. It's easier to provide a suitable environment for smaller parrots such as cockatiels, with space to fly, a companion, and toys to play with. It's far more difficult to care for larger, long-lived parrots like African Greys, cockatoos and macaws, which need either a large aviary, or supervision if they are to be let out of cages to fly round a room. Large parrots kept alone in bleak surroundings tend to suffer from both social isolation and simple boredom. Keeping more than one parrot of the same species together can help ease social isolation, but it's not an option for birds raised by humans, which haven't learnt to relate to their own kind. They need human company. Large parrots can form strong bonds with their owners, and don't take to just any human. Some may prefer women to men, or vice versa. Their pickiness about humans can be a problem if you want to go on holiday, and need to find a carer. Parrots strongly attached to one person may pluck out their feathers if 'their human' is absent. Their human is replacing a flock, and it's a big commitment.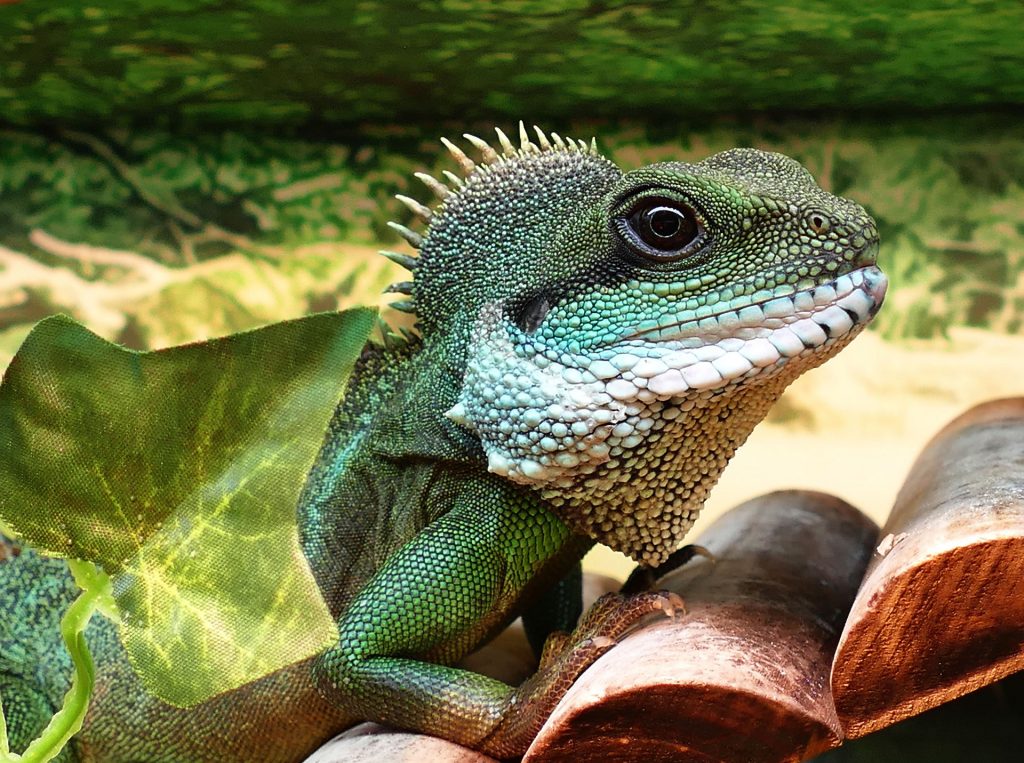 Parrot carers may also need to know that parrots tend to like things 'just right', the bowls in the right places, the food prepared in the correct way, and the toys in the correct places, correct from the parrot's point of view. Like sheep-herding dogs, parrots can have a strong sense of order. Herding dogs are bred to be sensitive to changes in their environment, to notice where sheep are, and if anything 'looks wrong'. Parrots are designed to be wary of anything that 'looks weird', because it could indicate a predator, such as a snake in a tree, and they tell one another about it. Humans may believe that a parrot reacting strongly to small changes, like a curtain pulled further back than usual, is behaving like a drama queen. From the parrot's point of view, it makes perfect sense to tell their human in no uncertain terms that something is not right!
Caged parrots sometimes show 'stereotypic behaviour', abnormal repetitive movements like swaying, a sign that an animal has been driven mad by the bleakness of its life. Giving a parrot an enriched environment to live in both helps to prevent stereotypies, and can help to cure parrots afflicted by them. Not just any toy will do. Parrots may ignore expensive toys you buy for them, and prefer ones you invent that cost nothing! They can be picky about toys as well as people.
Reptiles also need 'enriched' surroundings, with enough space, somewhere to hide, and somewhere to climb if they're climbing species, and relative peace. If you want to stress out a reptile, keep it in a small, bare tank in the living room, with no access to sunlight, no protection from nocturnal light, and subject to vibrations from humans walking past. Ideally, reptiles need a room that's dedicated to them, a lot of space, enrichment, a microclimate with illumination that mimics that of their native home, and a diet that's as close to their diet in the wild as possible. In fact, despite the best efforts of their owners, a large proportion of reptiles die in the first year after they've been acquired. There's so much that the owner needs to get right, it's very easy to make a mistake, and cause the death of a cherished animal. Even if reptiles stay healthy, they're unlikely to have the quality of life they would in the wild. They are certainly not good candidates for impulse buys, though they can do well with dedicated owners who research the needs of each species.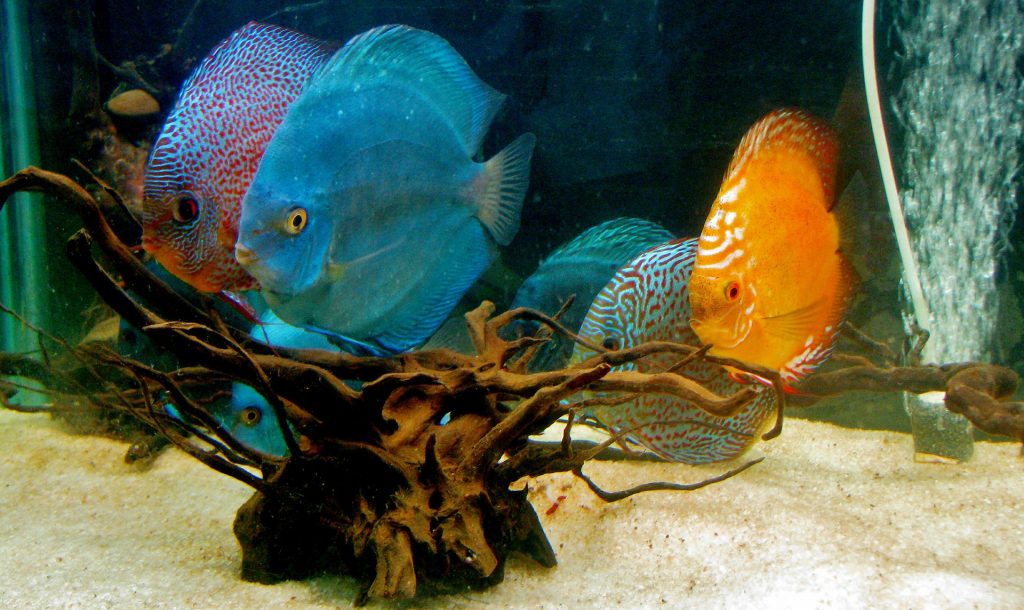 Tropical fish tend to fare even worse, especially when bought by novices setting up a 'community tank' with different species. Water quality is critical for fish, and their needs vary in terms of water pH and temperature, so if the fish chosen for the tank are imported from different places and have different needs, it's impossible to cater for them all. Fish may find themselves in close proximity with species they'd never meet in the wild. Some fish may prefer to bully, or even eat others in the tank, rather than cohabit peacefully with them. All these problems are made worse if tanks are small and overcrowded.
Exotic pet keepers can sometimes be successful in raising animals to adulthood, but then run out of space, or find the adult too aggressive for comfort. Large parrots can inflict a lot of damage on humans with their beaks, and some reptiles can grow extremely large. Not surprisingly, a lot of longer-lived exotics end up in rescue, either because owners find them too demanding, or simply because they've outlived their owners. Adult parrots can be difficult to rehome because they can be picky about who they bond with, and they may have developed bad habits, like biting people. Large adult reptiles aren't easy to rehome either. Owners may even dump unwanted exotics, or they may escape, becoming invasive species. Florida is home to a number of large invasive reptile species. Racoons have established themselves in France and Germany. Closer to home, London has colonies of ring tailed parakeets, descended from imported pets.
Why do people like exotic pets?
If keeping exotic pets is so problematic, why should anyone want one, rather than a traditional domestic pet like a cat or a dog? Part of the answer is that people often don't realise what they're taking on. Pet stores are in the business of selling animals and accessories, rather than providing reliable information. Salesmen will happily sell reptiles as suitable for novices, when the species really needs some specialist knowledge, and they'll happily sell 'starter kits' that are inadequate to house the animal for any period longer than a few days.
Some exotic species have become fashionable in certain parts of the world. At one time, it was fashionable in the UK for kids to be given imported tortoises that often didn't survive their first winter. Kids also kept tiny terrapins in small enclosures with little islands and a plastic palm tree. The terrapins didn't survive long either. Reptiles are still popular as pets in the UK, though there's now more control over imports. Following fashion is part of being human. We're social animals, like parrots, and we like to do things in groups. We also like novelty. We have few native reptile species in the UK, so they fascinate us. In Spain, reptiles are common, and fewer people are interested in keeping them as pets. In this, perhaps, humans are like dogs and parrots, we like playing with new toys.
Humans often like collecting, the way squirrels and hamsters collect food and store it away. It can be a useful habit, to have a full store cupboard for when we can't get to the shops, though it's not so useful when it tips into hoarding, or collecting animals that we don't have the resources to care for. The Victorians were great collectors of animals, which they exhibited in zoos and circuses to curious spectators. Gerald Durrell became a famous 20th century animal collector, and wrote a series of books about his adventures all over the world in a quest to find rare animals. His books used to be popular with animal lovers, though today they horrify conservationists. Trapping a rare animal in the tropics, to take it to England, is not usually the best way to conserve a species.
Humans also have an inbuilt curiosity about other species which helped us to survive when we lived in small groups, hunting some animals to eat, and trying to avoid being another animal's dinner. And humans are unique in having domesticated other species, like sheep, cattle and dogs, sometimes for food other times as workmates, and at times simply because we enjoy their company. The whole process of domestication has depended on humans being initially curious about, and attracted to some wild animals, both those that were trapped and held captive, and those that hung around human settlements, needing no cage to stay close.
We tell stories about animals, which often say more about the storyteller than the animals themselves. Jack London's dog with a human voice reflected the author's views rather than the viewpoint of a dog. Animals are 'bad', and designated pests, or 'good', and encouraged, according to our circumstances. Rabbits are cute and cuddly, unless they're demolishing our vegetables. Fear of snakes is common among mammals, but some humans are happy to have non-venomous snakes in their barns, to control rats and mice. Ferrets may be seen as cute and intelligent in some parts of the world, useful for rabbit control elsewhere, and disliked in New Zealand, because they can decimate local wildlife. We have our favourites among domestic animals. Lambs are cute. The Good Shepherd is a religious symbol. Pigs tend to be treated with less affection. To offer them too much is to 'cast pearls before swine'. We moralise about animals, and have strong views on their care, but we don't always understand the needs of domestic animals, let alone wild creatures.
The Call of the Wild
Today we still like to get involved with wild animals that surround us. Humans seem to have a compulsion to feed wild creatures that will come to us for food, such as ducks, pigeons, and even monkeys in some parts of the world. In the UK, people often put out food for birds and hedgehogs. Sometimes wild visitors come so frequently that we get to know them as individuals. Making a garden wildlife-friendly is much cheaper than keeping exotic pets. Keeping cold-water fish in a large pond is much more relaxing than keeping tropical fish in a tank, because pond fish tend to be healthier, and need much less care. It's easier to go on holiday if your relationship is with an animal that can fend for itself while you're away, rather than a captive animal that's totally dependent on humans.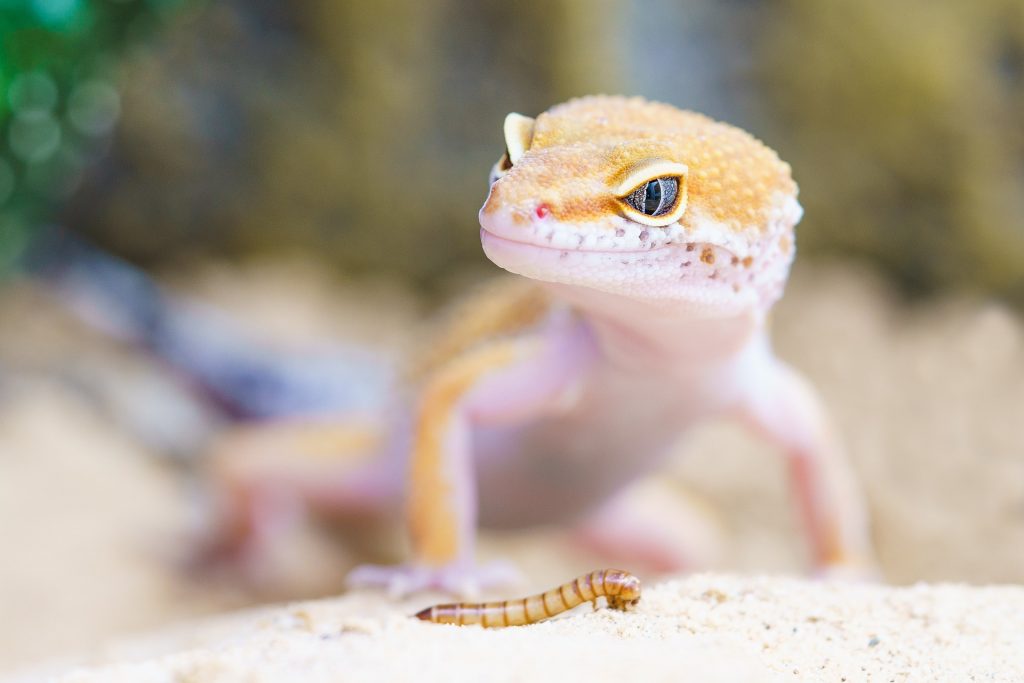 Going on holiday gives us a chance to watch animals in the wild that we don't normally see at home. In Spain, it's relaxing to watch and listen to geckos that position themselves in light places on walls, catching insects that otherwise might bite us. Geckos are very common in Spain, but for British visitors, they're magic, because we don't have them at home. If we're fascinated by wild animals, it's part of being human, but we don't have to own them. Given that most reptiles and fish are dead within a year of being bought, and that neurosis is the norm among captive large parrots, perhaps owning an exotic pet is the least helpful way of getting to know that species. Jack London dreamt of 'the wild' as an antidote to a corrupt civilisation. Yet keeping imported exotic pets encourages some of the worst crimes of humans against 'the wild', the decimation of wild populations, the slaughter of animals in transport, and all too often, their slow death or descent into madness once they reach their new homes. Even if salesmen claim that exotic species are captive-born, unless there's strict control over sales, smuggling and false reassurances will continue.
There will still be people wandering into pet stores and markets, tempted by starter kits and ready to believe salesmens´ promises. Meanwhile, there are people who have spent their lives studying and caring for captive wild animals, who have built up a lot of expertise about how owners can help them adapt to captivity. People who have developed expertise feel unhappy about the exotic pet trade, which often tempts novices who love wild animals to kill the creatures they love, mostly through ignorance.
One suggested solution is to have clearer labelling for exotic animals, so that buyers are better able to take informed decisions. This may not go far enough in informing buyers, especially people who buy on impulse, without having spent time researching the needs of the creature they purchase. Perhaps buyers could be given care sheets for each species, written by specialists in terms that non-specialists can understand. Then buyers could complete questionnaires to show they're aware of what they're taking on, both of the needs of the animals, and of risks to humans. Buyers also need to have a specialist vet lined up, because not all vets understand the needs of exotic pets. People don't like to admit they've made mistakes, but if buyers were fully aware of the cost and commitment needed to keep exotic animals physically and mentally healthy, they'd make fewer mistakes.
Pet stores can be responsive to public opinion. They make less money from selling dogs than they used to, and more from selling canine accessories. Promoting responsible and informed pet ownership, and a healthier relationship with wild animals could be a marketing plus for a pet store chain. It would encourage customers to trust them as honest and caring. They'd sell fewer animals, and have to stop selling inadequate 'starter kits', but they could increase sales of accessories, including pond equipment, and products to encourage wild creatures to visit gardens, like hedgehog food. There has been a lot of progress since tortoises were imported en masse to die in English gardens, but we still have a long way to go.
Acknowledgement
Thank you to Tiffani Howell for comments on an earlier draft of this article
Photos sourced from Pixabay
Further reading/Resources
Aydinonat D, Penn DJ, Smith S, Moodley Y, Hoelzl F, Knauer F, Schwarzenberger F. (2014) Social isolation shortens telomeres in African Grey parrots (Psittacus erithacus erithacus). PLoS ONE, 9(4): doi:10.1371/journal.pone.0093839.
Burghardt, Gordon M. (2013) Environmental enrichment and cognitive complexity in reptiles and amphibians: Concepts, review, and implications for captive populations. Applied Animal Behaviour Science, 147 (3-4) , pp. 286-298.
Engebretson, M. (2006). The welfare and suitability of parrots as companion animals: A review. Animal Welfare, 15, 263–276.
T.J. Howell, C.P. Bennett (2017) Despite their best efforts, pet lizard owners in Victoria, Australia, are not fully compliant with lizard care guidelines and may not meet all lizard welfare needs
J. Vet. Behav.: Clin. Appl. Res., 21 (2017), pp. 26-37
Livengood, E. J. & Chapman, F. A. (2007). The ornamental fish trade: An introduction with perspectives for responsible aquarium fish ownership. FA124 Department of Fisheries and Aquatic Sciences, Florida Cooperative Extension Service, Institute of Food and Agricultural Sciences, University of Florida, p. 8.
Meehan, C. Garner, J. & Mench, J. (2004) Environmental enrichment and development of cage stereotypy in Orange-winged Amazon parrots (Amazona amazonica) Dev Psychobiol. 2004 May;44(4):209-18.
Meehan, C., & Mench, J. (2008). Captive parrot welfare. In A. U. Luescher (Ed.), The manual of parrot behaviour. Oxford: Blackwell Publishing.
Miklosi,A., Kubinyi,E., Topal,J., Gacsi,M., Viranyi,Zs., and Csanyi,V. (2003) A simple reason for a big difference: wolves do not look back on humans, but dogs do. Current Biology, 13, 763-766.
Miklosi, A. (2015) Dog: Behaviour, Evolution and Cognition, 2nd ed. Oxford University Press.
Mills, Daniel (ed) (2010) The encyclopedia of applied animal behaviour and welfare. CABI Publishing
Pepperberg, Irene M. (2008) Alex & Me. Harper Collins
Pepperberg, Irene M. (2002) The Alex Studies: Cognitive and Communicative Abilities of Grey Parrots. Harvard University Press
Pregowski, Michal Piotr (Ed.) (2016) Companion Animals in Everyday Life: Situating Human-Animal Engagement within Cultures. Springer
Reimer J, Maia CM, Santos EF. (2016) Environmental Enrichments for a Group of Captive Macaws: Low Interaction Does Not Mean Low Behavioral Changes. J Appl Anim Welf Sci. 2016 Oct-Dec;19(4):385-95. doi: 10.1080/10888705.2016.1175944. Epub 2016 May 2.
Volpato, G. L. (2009). Challenges in assessing fish welfare. ILAR Journal, 50, 320–327.
Warwick, C., Arena, P., Lindley, S., Jessop, M., and Steedman, C., (2013) Assessing reptile welfare using behavioural criteria. In Practice 2013;35:123-131 doi:10.1136/inp.f1197
Warwick et al., 2014
C. Warwick, C. Steedman, M. Jessop, E. Toland, S. Lindley
Assigning degrees of ease or difficulty for pet animal maintenance: the EMODE system concept
J. Agric. Environ. Ethics, 27 (1) (2014), pp. 87-101
Warwick C, Jessop M, Arena P, Pilny A and Steedman C (2018) Guidelines for Inspection of Companion and Commercial Animal Establishments. Front. Vet. Sci. 5:151. doi: 10.3389/fvets.2018.00151
Warwick C, Steedman C, Jessop M, Arena P, Pilny A, Nicholas E. Exotic pet suitability: understanding some problems and utilising a labelling system to aid animal welfare, environment, and consumer protection. J Vet Behav. (2018) 26:17–26. doi: 10.1016/j.jveb.2018.03.015
Organisations
The Animal Protection Agency
The Animal Protection Agency (APA) is the UK organisation committed to ceasing the trade in wildlife for pets. Perhaps unbelievably, it is still legal in Britain to sell wild animals captured from other countries. The majority of wild-trapped animals die from the stress and disease that is associated with every stage of their harrowing journey. Next to habitat destruction, collection of animals for the pet trade is the main reason for the decline in many species.
https://www.apa.org.uk/
Birdline Parrot-Rescue
Birdline Parrot-Rescue was founded in 1992, initially to rescue and care for birds in the Warwickshire area. Expansion soon became an urgent necessity, resulting in recruiting various people who specialised in all species of birds from Finches to Macaws. A network of helpers and area co-ordinators, all of who work from their own homes, without payment, in order to provide a nationwide structure was quickly organised; thus permitting the organisation to offer a loving secure home to a wide variety of birds.
Birds are therefore never without a safe home, and are rescued by donation, collected by an area representative, they then decides where best the bird should be placed until a suitable home can be found.
In the past years, Birdline has helped over 1500 birds to find new homes. Over the last year Birdline has had over 1,000,000 visits to their main web site, taken over 30,000 telephone calls for help and advice, and aided countless birds and pets that owners cannot look after, either on a short or long term basis. They have assisted with behavioural problems, damaged and crippled birds, mutilated and neglected birds and have formed a strong liaison with many bird charities, including, police forces, zoos and other rescue organisations, not only in the UK but in many other countries around the world.
https://birdline.org.uk/
British Herpetological Society
The British Herpetological Society is one of the oldest and most prestigious societies of its kind in the world. Founded in 1947 by Britain's leading herpetologists, the BHS still enjoys its national learned status. The society's Herpetological Journal is ranked as one of the leading scientific publications devoted to herpetology. The society actively support Conservation, Research, Education and responsible Captive breeding through its specialist Committees.
https://thebhs.org/
Other links
www.infopet.co.uk has articles on care and behaviour for parrots, different types of reptiles, and fish, as well as summaries of research articles, and recommendations for books on the care of particular species. There are also articles on birdwatching and making your garden wildlife-friendly, if you would prefer to watch wild animals rather than keep them in captivity.
www.filatelicbird.co.uk has a wide range of inexpensive collector's stamps showing birds, reptiles and fish. There are more stamps than can be depicted on the site, so it's worth asking if you are interesting in particular types or species.