And other companion dogs, it's not "just" for Spaniels and Labradors!
But I'm not interested in shooting?
If your dog is reactive to other dogs and people; or generally over excitable; or will run off after cats, squirrels and rabbits, then there's a lot that you can derive from the skills that traditionally have been taught to working gundogs, who need to learn self control and obedience in the highly exciting and stimulating environment of a driven shoot. Shooting grounds cover various terrains such as thick cover, woodland, moors and farmland where game birds, hares, foxes, squirrels, deer and rabbits are very much a part of the scene but the dogs must learn to ignore all of these distractions and remain focused and concentrated on their owner's instruction.
Essentially, gundog training is about going out and having a great time with your dog while at the same time building a bond of trust and a relationship based on cooperation and teamwork… what's not to love about that?
All domestic dogs have one common ancestors in the wolf, which are a highly social and communicative predatory species who live in family groups and are highly efficient in being able to work together to hunt and bring down large prey, and learn from each other in order that they might pass on these skills to future generations.
However one key figure in domestic dogs, unlike their ancestors, is an ability to work with and cooperate with humans and to ask for human cooperation when they find situations that they are unable to negotiate or solve on their own. Scientists at Lingoping University in Sweden have been studying this and suspected that dogs willingness to cooperate with us might be due to a heightened sensitivity to the brain chemical oxytocin, which has already been well established as contributory to social relationships in both animals and humans.
We can encourage the release of oxytocin in our dogs in several different ways, all of which are now proven to increase our dogs willingness to cooperate and communicate with us. Eye contact, giving and sharing, petting and grooming, as well as smiling and happy voices will all encourage your dog's brain to release oxytocin.
The instinctive motor patterns in the hunting chain of a dog are similar to that of its wild ancestors but have been shaped by the selective breeding process to some degree, with different breed types specialising in different parts of the sequence, but most breed types will carry out some of these motor patterns to a greater or lesser degree.
The motor pattern sequence relates to the predatory drives in carnivorous animals.
Orient (catch sight of) > Eye (watch, keep sight of) > Stalk (creep towards) > Chase > Bite to catch hold of > Bite to kill >
Gundog training offers us a wide enough scope that we can simply work with the dog we have and harness their individual strengths, and still have a great deal of fun together.
I am purposefully using the phrase 'breed types' instead of breeds as most dogs of any breed, including the toy breeds have some or part working heritage in their ancestry. Even toy breeds and terriers can enjoy retrieving and hunting.  Sight hounds often tend to be more laid back and not so worried about carrying and retrieving, but will enjoy the opportunity to chase, and teaching them great control skills such as stop / sit to whistle and recall allows them freedom to do so safely where dogs who have not developed such a strong working relationship with their owners might not be able to do so. The great prize on offer for obedience is freedom. Terriers and sighthounds  'in general' have been bred with an increased < Bite to kill > drive but there is great variation between individuals, and in identifying your own individual dog's drives you can use play and training to ensure that you have ultimate control at all times. Flirt poles and tuggy games can be particularly useful for bringing these drives under control.
As a note:  Some longer back hounds find the sitting position quite awkward but drop to a down position or simply stop and stand works just as well so long as it is recognised by the dog and reliable to such an extent that you can stop your dog, even in pursuit.
Within the traditional gundog breeds there are many different characteristics too. Different terrains call for different gundog skills, with some dogs being specialists in playing just one particular role on a shoot. Spaniels, for example, would flush the game from cover while pointers would stand still to indicate the location of game, and retrievers would go and retrieve dead and injure game once shot.
There are also many crossovers in the roles played in the field. Most gundogs are expected to retrieve game (but for dogs who really don't like to pick things up, the skill of finding and indicating is useful too so if your dog doesn't like picking things up, there is still a lot you can gain from general gundog training). The HPRs (hunt, point and retrieving breeds such as the Brittany, Weimaraner and Viszla) would be expected to cover all three bases.
One of the really great things about gundog training is that it offers so many different skills for you to teach your dog, from really basic sit stays to complex search patterns and direction changes. There's not only something for every dog, but there's so much scope to fine tune and advance your skills, and because your dog will be doing what comes naturally to him, he'll love it!
When it comes to the skill of retrieving, gundogs are taught to pick up and carry canvas bags stuffed with sawdust to mimic the weight and of carrying shot game. These are called dummies and they come in various weights and sizes, with very small ones designed to be easy for puppies and smaller dogs to carry, and very large ones to teach dogs  how to balance and carry the weight of larger game like hare and goose.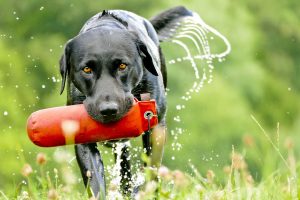 The canvas bags are not that exciting in their own right, so the dog learns that the game of picking up and retrieving back to his owners hand is the fun part of the game before they get a chance to learn that pulling feathers and playing with the their find might be a more exciting game.
Should you decide to get competitive with your dog the sport of Field Trials is a great opportunity to showcase your skills. In this sport, canvas dummies are used not real game, so there's no actual contact with 'dead things', and certainly no need to feel you are engaging in 'blood sports' if this is something you don't like the idea of or feel squeamish about. If you are using 'gundog training' simply as a programme to keep your training fresh and fun, you don't need to use dummies at all, you could use balls or any of your dogs toys, and you can even use everyday useful objects such a spare set of keys or lead to fine tune your skills with. Things we have all managed to drop while walking at some point in our dog owning lives.
Isn't gundog training quite harsh?
There are still some old school trainers who use methods that most modern dog trainers would not condone today, however we live in exciting times for gundog training as the Gundog Club has announced that as of September 2018 all approved trainers examiners much subscribe to 'force free' training methods.
In force free training we always seek to set our dogs up for success and manage our environment to ensure that only the right choices are available at any time, which effectively teaches the dog what he should do in a given situation. We then gradually increase our levels of distraction and duration always seeking to stay within the bounds whereby the dog is confident and able to make the right choices. If the dog makes a mistake, the dog is not punished, we simply step back to the point whereby the dog is succeeding and take the next steps in smaller increments.
The gundog club offer various graded levels of assessment for people to test their own handling skills against, so it is non-competitive but simply gives you an opportunity to measure your progress in a graded set of skills. There are categories for retrievers, hunt retrievers and HPR's but your dog does not have to be of any particular category to participate. You can just choose which you would like to enter according to which skill set you think is best suited to your dog. What's more, it is open to all breeds and dogs do not have to have a registered Kennel Club name to participate.
There are also many pet dog trainers who offer gundog training classes and individual private training for people who want to have fun with their dogs.
So what's in the bag?
There are several roles which dogs play in the sporting field, which gives us loads of opportunities to train for skills that your dog enjoys.
It's fair to say that a lot of dogs do not like to pick things up and carry them, while others can be quite obsessive about it. "Obsessive" behaviour in any one way is not necessarily good, especially in dogs prone to anxiety-related problems. It's far healthier all round to have a variety of activities on the agenda, so some fast games and exercises like chasing the flirt pole or playing fetch, and some controlled games like heelwork and sit / stays so that dogs learn self-control and when to switch on and then be able to switch off and relax. Again, gundog skills offer us this versatility.
If your dog does not like to pick things up and carry them – that's fine. The skill of finding and pointing is useful in its own right. Dogs aren't very good at climbing trees but in woodland, shot game may well be caught in a tree so it is still essential that the dog can find it and alert their human so that it can be brought down as soon as possible after being shot. Sometimes you might lose items that you do not want your dog to actually pick up, like your phone which could be damaged in a dog's mouth, so indicating is a great skill in its own right.
Taking directions from their human is also a vital set of skills for a gundog. Sometimes a dog may not have seen where game has landed, and so rather than wasting time searching the entire countryside, they need to look to us to tell them precisely in which direction they should go, and how far they should go before stopping to search. These skills are quite easy to build with just a few minutes' playtime a day and can easily translate back to 'go find my keys' or a dropped lead you might have lost while walking your dog.
Stopping on cue is vital for a gundog's safety when guns are firing. It's also practical for every day if you happen upon hazards while out walking your dog. It's a fun skill to learn and can easily be taught using a ball, food or flirt pole, so whatever motivates your dog most can be weaved in to the game.
Balance and manual dexterity are useful skills for a gundog, and they are useful for your pet dog too. Negotiating different covers and obstacles in the field is very much a part of the job. A dog that might panic on a wobbling bridge is a dog that might make a rash decision to jump off and so injure himself. The discipline of following a gundog training programme will help you develop your dog's confidence and trust in you, as well as building trust and confidence in his own abilities.
Heelwork and walking nicely on lead is something most owners crave, but most dogs find difficult if their sole excitement in life is their walk in the park every day. I find that as soon as I pull a dummy out of my game bag, my dog immediately positions himself to heel. He loves his marked retrieves!  He can't wait for me to throw it and then ask him to 'mark' (look at the dummy, remember where it has been dropped) , and he will keep close to my side as we walk away… how far? When? … you can almost see him asking these questions in his expression.  His fullest attention is on me waiting for that moment when I might send him back to go find it.
While there are many great games we can play with our dogs in our homes and gardens, the skills expected of a working gundog generally include many of the skills dogs would carry out quite naturally without human guidance or control. In effect, what gundog training is is our 'joining in' with our dogs at games they really enjoy, and in doing so making access and opportunities to play these games more frequent with common cooperative goals which we can achieve together.
The team from a human perspective
When we consider our relationships human friends, we see that it's always people that we have the most in common with that we feel we can communicate with most easily and feel the strongest connection with. When working as a team we can step aside and truly appreciate how we can be benefitted by the abilities of others whose skills might be very different from our own. We learn to trust, respect and even accept differences in opinion that we might not otherwise entertain.
A recent study by Google to identify the key components of their most highly functional teams in order to develop an algorithm of personality traits identified "psychological safety" as one particular condition that mattered most, that is how people within the team treated one another. It was defined as "a shared belief held by members of a team that the team is a safe place for inter personal risk taking" and that members "will not embarrass, reject or punish someone for speaking up".
Creating such trust between individuals of different backgrounds might not be so easy to establish, but having cooperative goals which in turn bring mutual rewards and shared resources is highly contributory to successful team bonding. Team bonding has been found to release oxytocin in human brains, (https://www.psychologytoday.com/us/blog/the-five-percent/201806/the-science-teamwork).
So to conclude…
Within the scope of gundog training we have the opportunity to allow our dogs to indulge in their primal instincts and drives. Harnessing your dog's natural motor patterns and joining in with their games as team players creates a zone of psychological safety within 'the team', team you and your dog(s), where trust, cooperation and confidence flourishes, which will not only serve well in the highly exciting environment of a hunting situation, but will in turn translate in to our everyday lives and so reducing fear, anxiety and any subsequent reactivity. The thrill of chasing after squirrels, rabbits and cats can be outweighed by the thrill of the common goal we share as a team… so no matter what kind of dog you have it's well worth taking a closer look at gundog training.
There are a great selection of books available with in depth reviews www.infopet.co.uk  to help you make an informed choice about which books would be best for you. 
If you'd like to know more about the breed characteristics of your dog type then you can find links to the various breed books here. And there are also a number of books about gundogs and skills training that will help you bring out the best in your dog and enjoy doing stuff together, great team building exercises for a better flow of communication and trust.